Kevin McGuire Announced as Director of Theatrical Programming at Collaborative School of the Arts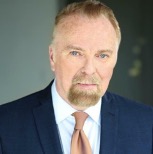 SCHENECTADY (Oct. 31) – The Collaborative School of the Arts has announced that they've hired Kevin McGuire as the new Director of Theatrical Programming. McGuire has served as an associate artist and has frequently been on stage at Capital Repertory Theatre, which is also a part of Proctors Collaborative.
Recently, the Hoosick Falls native was the director of the Collaborative School of the Arts Broadway Camp production of "The Prom." Broadway Camp is a summer theatre training program where local students work as an ensemble through acting, production and music to produce a full-scale musical on the MainStage at Proctors.
"When looking for someone to fill this important position, we didn't have to look further than Kevin. He has proven through his time as the director of Broadway Camp and his experience on and off Broadway that he is the perfect person for this role. We're honored that our students will constantly have the opportunity to learn from one of theatre's greats," notes Christine Sheehan, Director of the Collaborative School of the Arts.
As the Director of Theatrical Programming, McGuire will continue to direct the Broadway Camp productions as well as the High School Musical Theatre Awards, which recognizes outstanding local musical theatre productions and students. McGuire will also support the development of student training classes and be a consultant on theatrical training classes across Proctors Collaborative.
"It has always been my contention that the most important thing I can do is pass on to a new generation the incredible training I had in my youth. I love to teach. I love watching talent emerge," says McGuire.
McGuire will be using his experience from Broadway productions such as "Les Miserables," "The Phantom of the Opera," "The Secret Garden" and more as well as productions at theREP such as "Man of La Mancha," "The Full Monty," "The Irish and How They Got That Way" and "The Wizard of Oz," to name a few. Kevin is a former faculty member at Circle In The Square Theater School and NYU. He teaches a private acting class in New York.